Florida Lotto Results, Intelligent Picks, Lotto Wheels
Updated: Saturday, November 9th, 2019 03:48 PM
Florida Lotto | FL Lotto | Florida Lotto Results of 2013
#
Draw Date
Winning Numbers
Sat Nov 09, 2019
Wed Nov 06, 2019
Sat Nov 02, 2019
Wed Oct 30, 2019
Sat Oct 26, 2019
Wed Oct 23, 2019
Sat Oct 19, 2019
Wed Oct 16, 2019
Sat Oct 12, 2019
Wed Oct 09, 2019
Sat Oct 05, 2019
Wed Oct 02, 2019
Sat Sep 28, 2019
Wed Sep 25, 2019
Sat Sep 21, 2019
Wed Sep 18, 2019
Sat Sep 14, 2019
Wed Sep 11, 2019
Sat Sep 07, 2019
Wed Sep 04, 2019
Sat Aug 31, 2019
Wed Aug 28, 2019
Sat Aug 24, 2019
Wed Aug 21, 2019
Sat Aug 17, 2019
Wed Aug 14, 2019
Sat Aug 10, 2019
Wed Aug 07, 2019
Sat Aug 03, 2019
Wed Jul 31, 2019
Place mouse over or click to view


Florida(FL) Lotto Prizes and Odds

Florida Lotto News and Payout for Saturday, November 9th, 2019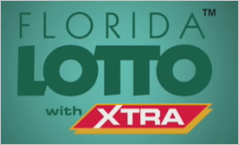 Updated: Sunday, November 10, 2019 01:26 AM
The estimated grand prize for Saturday night's drawing was $2.50 million. According to official Florida lottery, nobody hit every number and the grand prize went to a projected $3 million. The numbers drawn Saturday night, November 9th, 2019 were 12, 15, 25, 26, 47 and 51 with Lotto Xtra 12-15-25-26-47-51..
Although there was no grand prize winner Saturday evening, Florida Lotto did produce some big winners. There were 299 lucky tickets correctly matched Match 5-of-6 numbers, which won the 2nd prize. 14 winning ticket(s) will collect $5,398 cash each. Another 285 lucky second prize winning ticket(s) with Lotto Xtra would win $290 cash. In the past 12 months, the second prize paid the lowest $2,832 and highest $8,715 with an average payout in the amount of $5,561.
Additional major winners Saturday evening included 6347 tickets that matched Match 4-of-6 numbers. 800 winning ticket(s) won $73 cash each. The other 5547 lucky third prize winning ticket(s) together with Lotto Xtra would win $25 cash. In the past year, the third prize payout ranged from $43 to $98 with an average payout in the amount of $75.
Florida Lotto drawings occur 2 times a week every Wednesday and Saturday at 11:15 PM Eastern Time. To play, pick six numbers from a set of 53 numbers. The overall odds of winning is about 1 to 67. The odds of matching all six Florida Lotto numbers are about 1 in 23 million. The minimum Florida Lotto jackpot is $2 million. If nobody wins the grand prize, the top prize pool money will be carried over to the next jackpot.
With five different ways to win, there were 142,646 winning tickets sold across Florida in the Saturday, November 9th, 2019 drawing. Find below the Florida Lotto prize payout highlights for the Saturday night's drawing:
No ticket matched Match 6-of-6. In the past year, winning tickets of this prize tier in the drawing of Florida Lotto, won from $3 to $15,000,000, with an average of $2,578,435 payout.
299 winners matched Match 5-of-6 and won $5,398 each. In the past year, tickets hit Match 5-of-6 in Florida Lotto drawing, won a minimum of $2,832 to max $8,715. The average prize payout of this prize level was $5,561.
6347 winners matched Match 4-of-6 and won $73 each. In the past 1 year, tickets matched Match 4-of-6 in Florida Lotto drawing, won a minimum of $43 to max $98. The average payout of this prize tier was $75.
64673 ticket(s) matched Match 3-of-6 and won $5 each. In the past year, winning tickets of this prize level in the drawing of Florida Lotto, won from $5 to $6, with an average of $5 payout.
Click here for detailed information of Florida Lotto payout and news.
About Florida Lotto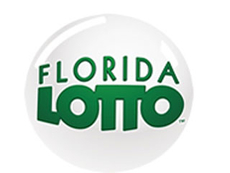 Florida Lotto is an exciting draw game available in the state of Florida. Florida Lotto first tickets went out on sale on Friday 29, 1988 and the first drawing was held on Saturday, May 7, 1988. Josie Morre from Port Charlotte won the first Florida Lotto jackpot of $14,080,000 on May 28, 1988.
Florida Lotto operates a pari-mutuel game whereby prizes are given based on the amount of tickets sold and the number of winners for each prize level with 25% of the amount of ticket sales accumulated in the jackpot prize pool. However, if there was no ticket came up to win the top prize pool during a particular drawing, that prize pool would then roll over to the next week's jackpot prize pool.
There was a significant change that came to the Florida Lotto on October 24, 1999 when 4 additional numbers were then added making 53 numbers total for all players to get to choose from but this makes it difficult for players to have a shot at winning the big jackpot. The first drawing that was mid-week was held on October 27 of 1999 after the second weekly drawings were added on Wednesday nights. This brought about the highest number of 53 but the jackpot was decreased to $3 million because of the twice weekly drawings.
The new Lotto Plus feature was introduced to the Florida Lotto on March 2nd, 2008 in order for the players to be capable to increase the prize of the jackpot by choosing to make wagers ranging from either $2.00 or $3.00. As long as a player increases their wager up to $2 and can match 6 numbers, they will win $10 million along with their share of the jackpot. Lotto Plus couldn't accumulate to prize pools since all the amounts that were wagered for it couldn't rollover where there was no jackpot winner or even where not a single winning ticket had chosen Lotto Plus. The bonus amount of the original Lotto game however, was fixed. The total amount annually a winner will receive or share is the advertised $10 million or $25 million. Players choosing one lump sum will only receive the value that is present and that is their share of the winning bonus in addition to the value of what the jackpot prize is. However, in the event of multiple tickets winning a drawing in addition to them all choosing the "Plus Option", any of the bonus money is then shared equally with the winning tickets with $2 or $3 wagers. Any bonus money will become profit of the Florida Lottery when no bonus is won because Lotto Plus funds do not accumulate, and a loss will accrue to the Lottery when a bonus is won more often than what typically would be expected.
The sale of Florida Lotto was set to fall in January 2009 when the Florida Lottery started to sell Powerball tickets and the Florida Lotto drawings started taking place at 11.15 P.M. ET starting on January 7, 2009 to give room for Powerball drawings to be done at 10.59 P.M. ET. Consequently, sales of the Florida Lotto were badly affected with some of the rollovers going up by just $2 million for each drawing.
Lotto Plus was forced to be discontinued in October 2009 because the existing features were unable to offer consolation prizes for getting a match on at least 3 of the numbers, and so it became hard to compete against Power Play, which offers prizes for each level of Powerball prizes but excluding the jackpot. Besides, Advance pay tickets with Lotto Plus carried on qualifying for a greater prize.
Florida Lotto introduced the Lotto Xtra tickets which when bought together wins a free play Lotto Xtra for a 2 of 6 matches. The minimum prizes for 3 of 6 were also raised from $3.50 to $5. In a deliberate attempt to help with promoting the Lotto Xtra additional feature, the Florida Lottery then guaranteed that a Lotto Xtra ticket that matches at least 3 of the 6 numbers would get a 5x multiplier until December 27 of 2009. The Lotto jackpot then got decreased and was $2 million in February of 2010 and on April 14, 2010, the Florida Lotto went on to produce their 19th consecutive rollover which broke its record before that which was 18, and that was set on April 3, 2010.
How to play Florida Lotto?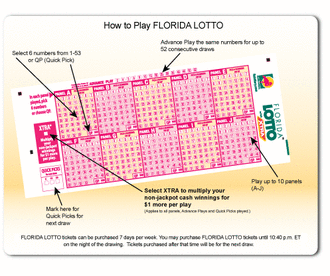 The minimum age to play the Florida Lotto is 18.
Florida Lotto was initially played by selecting 6 numbers from a field of 49. Each play cost $1 and the drawings are held on Saturday nights. When a player is able to match all six numbers, they then would win a jackpot that is paid in 20 equal yearly instalments but the cash option was not made available until 1998.
Florida Lotto with added Xtra allows a player the chance to win even more on non-jackpot prizes by anywhere from 2-5 times the original amount all for $1 more per day. Players are required to get a Florida Lotto playslip at a local retailer.
Each one of the playslips contains ten panels ranging from A-J. In each of the panels played:
A player selects 6 different numbers that range from 1 to 53, or you can opt to use the Quick Pick option in the panel and allow the machine to choose all of your numbers or just a select few.
In order to multiply winnings on y of the -jackpot prizes you can opt to choose the Xtra box. Chooseing this Xtra box will cost $1 more for each play. Florida Lotto and Xtra tickets will usually show .XTRA YES.. Note that, the Xtra box will apply to all of the panels on the playslip, Advance Plays, and also Quick Picks played that are also played on your playslip.
When a player wants to play the same numbers another day or so or for more than one drawing, they will have to make sure they inform the person helping them, and they will need to tell them how many additional advance draws they want to play. You can also do this in the Advance Play area of the playslip.
Hand in your completed slip together with your payment and give it to the retailer and take your printed ticket with your numbers, and also the draw date and the total cost of the ticket.
Always make sure your ticket details are accurate.
Make sure to check the results of the drawing to see if you are one of the lucky winners! Draw results can be located at any of the authorized Florida Lotto retailers, by phone at (850) 921-PLAY (7529), on the state television channel or on the Florida Lotto websites.
Florida Lotto drawings are held on Wednesdays and also on Saturday nights at 11.15 pm ET. Tickets can be purchased up until 10.40 pm ET on the actual night of the drawing. Any tickets that are purchased after the 10.40 pm stipulated time will go towards the next Florida Lotto draw.
If however, a player decides to claim a prize on winning an Advance Play ticket before all of the tickets have occurred, then they will be issued with a continuation ticket for the remaining draws with the same play numbers as in the original ticket.
If you are a winner you have 180 days to claim your winnings.


Florida Lotto
SUN MON TUE

WED

THU FRI

SAT


Next Draw: Wed Nov 13, 2019
$3.00 Million
Change: +$500,000