Powerball jackpot leaps to 335,000,000; Three tickets won the second prize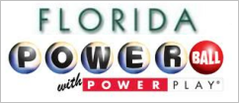 Updated: Thursday, June 23, 2022 01:24 AM
The jackpot in the Powerball multi-state lottery game has been increased to 335,000,000. The cash option stands at an estimated $188 million. The prize amount was rolled over because no player matched all five lotto numbers and the Powerball number in Wednesday's 312,000,000 drawing. The next Powerball game drawing is Saturday night. The numbers from Wednesday, June 22nd, 2022 drawing were 06, 10, 31, 48, 56 with Power Ball 12.
Though the grand prize was not hit Wednesday evening, Powerball had some huge winners. There were three 2nd prize winning tickets from Wednesday night's Powerball drawing, matching the first 5 lotto numbers but not the Powerball number. The one ticket(s) in Florida matched all five lotto numbers with the Power Play for an incredible 2 million dollar cash win! This is part of the Powerball game feature that guarantees a certain multiplier on all match 5 white ball winners that also have the Power Play option pushing the prize to $2 million cash. Two other lucky ticket(s) sold in Pennsylvania(1) and Wyoming (1), each won $1 million cash by matching all 5 white ball numbers!
Additional prizes won Wednesday night included 21 tickets that matched 4 white numbers plus the Powerball and won $10,000. There were 2 tickets matched 4+1 with Power Play option, multiplying the prizes by 4 for a total win of $40,000 each!
There were 51,804 Powewrball winning tickets sold in the state of Florida. 2 tickets sold in Florida matched 4 lotto numbers as well as the Powerball. These lucky ticket holders will receive $10,000 cash each. 97 tickets were sold in the state of Florida which matched either 4 or 3+1 numbers. The lucky ticket holders will receive $100 each. There were 24 lucky Florida winners won $200 prize by matching 4 or 3+1 numbers with Power Play purchased.
With 9 different prize tiers, the Wednesday night's drawing created 583,591 winning tickets across the nation with a total amount of $0 prizes.
Powerball is an American popular lottery game can be played in 44 lottery jurisdictions as a pari-mutuel jackpot game. Powerball drawings occur every Wednesday and Saturday night at 10:59 PM Eastern Time. Powerball uses a 5/69+1/26 system to randomly choose winning numbers. The odds of winning any prizes is about 1 to 32. The chances of matching 6 Powerball numbers are about 1 in 292 million. The minimum Powerball grand prize starts at 40 million dollar. Its annuity option is paid in 30 graduated payments. Winners can select one-time lump-sum cash payout option instead.
Wed Jun 22, 2022 Powerball Payout of U.S.
Numbers Matched
Prizes
# Winners
5 of 5 + Powerball
$312,000,000
0
5 of 5
$1,000,000
2
Pennsylvania-1
Wyoming -1

4 of 5 + Powerball
$50,000
21
4 of 5
$100
301
3 of 5 + Powerball
$100
814
3 of 5
$7
19,587
2 of 5 + Powerball
$7
16,803
1 of 5 + Powerball
$4
124,500
Powerball Only
$4
288,695
Wed Jun 22, 2022 Powerball Payout of US(with PowerPlay)
Numbers Matched
Prizes
# Winners
5 of 5 with Power Play
$2,000,000
1
Florida-1

4 of 5 + Powerball with Power Play
$150,000
2
4 of 5 with Power Play
$300
81
3 of 5 + Powerball with Power Play
$300
219
3 of 5 with Power Play
$21
5,707
2 of 5 + Powerball with Power Play
$21
5,151
1 of 5 + Powerball with Power Play
$12
36,592
Powerball Only with Power Play
$12
85,115
Wed Jun 22, 2022 Powerball Payout of Florida(w/o PowerPlay)
Numbers Matched
Prizes
# Winners
5 of 5 + Powerball
$312,000,000
0
5 of 5
$1,000,000
0
4 of 5 + Powerball
$50,000
2
4 of 5
$100
25
3 of 5 + Powerball
$100
72
3 of 5
$7
1,644
2 of 5 + Powerball
$7
1,409
1 of 5 + Powerball
$4
10,952
Powerball Only
$4
24,937
Wed Jun 22, 2022 Powerball Payout of Florida(with PowerPlay)
Numbers Matched
Prizes
# Winners
5 of 5 with Power Play
$0
1
4 of 5 + Powerball with Power Play
$2,000,000
0
4 of 5 with Power Play
$150,000
5
3 of 5 + Powerball with Power Play
$300
19
3 of 5 with Power Play
$300
555
2 of 5 + Powerball with Power Play
$21
527
1 of 5 + Powerball with Power Play
$21
3,540
Powerball Only with Power Play
$12
8,116
More Powerball Payouts
Powerball jackpot builds to 26,000,000 Monday night; 1 second prize ticket sold


Sunday, August 7th, 2022, 01:23 AM


The multi-state Powerball lottery grand prize has went to 26,000,000 dollars after there was no jackpot winner in Saturday's ...... Read More »
A winner from Pennsylvania took 202,000,000 jackpot from the Powerball drawing Wednesday night


Thursday, August 4th, 2022, 01:37 AM


A single ticket sold in Pennsylvania matched all six numbers in Wednesday night's Powerball game drawing, worth approximately ...... Read More »
No ticket matched all 6 numbers last night. Huge Powerball jackpot up for grabs Wednesday night


Tuesday, August 2nd, 2022, 01:39 AM


The Powerball multi-state lottery grand prize built to 202,000,000 (cash option $119.5 million) Wednesday night when there were no ...... Read More »
Monday's Powerball jackpot rises to 187,000,000; One second prize ticket sold


Sunday, July 31st, 2022, 12:40 AM


There was no ticket sold hit all five lotto numbers plus the Powerball number in the last multi-state Powerball draw, and the ...... Read More »
No jackpot ticket sold last night. Saturday's Powerball jackpot breaks to 170,000,000


Thursday, July 28th, 2022, 01:23 AM


The projected jackpot for Wednesday night's drawing was 145,000,000. According to Powerball, no player hit every number and the ...... Read More »
Wednesday's Powerball jackpot goes to 145,000,000; One ticket matched the first five numbers


Tuesday, July 26th, 2022, 01:13 AM


The jackpot in the Powerball multi-state lottery game has been increased to 145,000,000. The cash value will be $85.7 million. The ...... Read More »
Monday's Powerball jackpot builds to 130,000,000; 1 ticket matched the first 5 numbers


Sunday, July 24th, 2022, 01:08 AM


The Powerball game jackpot has jumped up to a projected 130,000,000 (cash value $76.8 million) for the next drawing in the ...... Read More »
No jackpot ticket sold last night. Saturday's Powerball jackpot moves to 119,000,000


Thursday, July 21st, 2022, 01:17 AM


The grand prize in the Powerball multi-state lottery game has been rolled up to 119,000,000. The lump-sum cash payout stands at an ...... Read More »
Nobody matched all 6 numbers last night. Wednesday's Powerball jackpot increases to 101,000,000


Tuesday, July 19th, 2022, 01:58 AM


There were no Powerball lottery grand prize winners for Monday's 89,000,000 dollar drawing, so the jackpot will go to 101,000,000 ...... Read More »
Monday's Powerball jackpot moves to 89,000,000; Two second prize tickets sold


Sunday, July 17th, 2022, 12:45 AM


With no winner in the last drawing, the Powerball grand prize is going to be worth 89,000,000 (cash value $51.7 million) the next ...... Read More »
Florida Powerball
SUN MON TUE

WED

THU FRI

SAT


Next Draw: Wed Aug 10, 2022
35,000,000
Change: +9,000,000