The jackpot for Saturday's Powerball drawing skyrockets to $523 million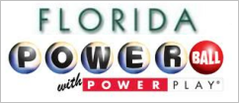 Updated: Thursday, September 23, 2021 01:34 AM
The grand prize for Saturday Powerball lottery built to $523 million (lump-sum cash payout $379 million) after nobody hit all 6 numbers Wednesday night. The numbers from Wednesday, September 22nd, 2021 drawing were 20, 40, 47, 55, 63 with Power Ball number 05.
While the jackpot was not awarded Wednesday evening, some players still walked away with large winnings. There were 3 second prize winning tickets from Wednesday night's drawing, matching all five numbers except the Powerball number. The two second prize winning ticket(s) bought in Florida(1) and Maryland(1) will collect $1 million cash. The other one second prize winner(s) from Pennsylvania also bought Power Play, which doubled the prize to $2,000,000 cash win!
Additional major winners Wednesday evening included 18 tickets that matched four white ball numbers plus the Powerball and won $10,000. 8 additional tickets of this prize level were also wisely purchased with the Power Play option that multiplied the prize 4 times to $40,000 cash!
There were 82,325 Powewrball winning tickets sold in the state of Florida. The lucky Florida ticket won the second prize was sold from . Two tickets sold in Florida matched 4 lotto numbers plus the Powerball. These lucky ticket holders will receive $10,000 cash each. One ticket sold in Florida matched 4 white ball numbers in addition to the Powerball with Power Play option purchased. The lucky ticket holder will collect $40,000. 139 tickets were sold in the state of Florida which matched either 4 or 3+1 numbers. The lucky ticket holders will receive $100 each. There were 43 lucky Florida winners won $200 prize by matching 4 or 3+1 numbers with Power Play purchased.
With 9 different prize levels, there were 996,448 tickets across the nation won $0 prizes in the Wednesday, September 22nd, 2021 drawing.
Powerball is one of the most popular lottery games in the U.S. offered in 44 lottery jurisdictions as a shared jackpot game. Powerball drawings occur every Wednesday and Saturday night at 10:59 p.m. Eastern Time. Powerball lottery uses a 5/69 (white balls) + 1/26 (Powerballs) system to randomly pick winning numbers. The minimum Powerball grand prize is $40,000,000. The annuity option is paid in 30 graduated payments. Winners may choose one-time lump-sum cash payout instead.
Wed Sep 22, 2021 Powerball Payout of U.S.
Numbers Matched
Prizes
# Winners
5 of 5 + Powerball
$490,000,000
0
5 of 5
$1,000,000
2
Florida-1
Maryland-1

4 of 5 + Powerball
$50,000
18
4 of 5
$100
507
3 of 5 + Powerball
$100
1,253
3 of 5
$7
30,464
2 of 5 + Powerball
$7
26,058
1 of 5 + Powerball
$4
207,721
Powerball Only
$4
524,860
Wed Sep 22, 2021 Powerball Payout of US(with PowerPlay)
Numbers Matched
Prizes
# Winners
5 of 5 with Power Play
$2,000,000
1
Pennsylvania-1

4 of 5 + Powerball with Power Play
$150,000
8
4 of 5 with Power Play
$300
117
3 of 5 + Powerball with Power Play
$300
271
3 of 5 with Power Play
$21
7,478
2 of 5 + Powerball with Power Play
$21
6,630
1 of 5 + Powerball with Power Play
$12
53,609
Powerball Only with Power Play
$12
137,451
Wed Sep 22, 2021 Powerball Payout of Florida(w/o PowerPlay)
Numbers Matched
Prizes
# Winners
5 of 5 + Powerball
$490,000,000
0
5 of 5
$1,000,000
1
4 of 5 + Powerball
$50,000
2
4 of 5
$100
50
3 of 5 + Powerball
$100
89
3 of 5
$7
2,313
2 of 5 + Powerball
$7
2,017
1 of 5 + Powerball
$4
16,672
Powerball Only
$4
41,428
Wed Sep 22, 2021 Powerball Payout of Florida(with PowerPlay)
Numbers Matched
Prizes
# Winners
5 of 5 with Power Play
$0
0
4 of 5 + Powerball with Power Play
$2,000,000
1
4 of 5 with Power Play
$150,000
12
3 of 5 + Powerball with Power Play
$300
31
3 of 5 with Power Play
$300
705
2 of 5 + Powerball with Power Play
$21
634
1 of 5 + Powerball with Power Play
$21
5,158
Powerball Only with Power Play
$12
13,212
More Powerball Payouts
Powerball jackpot breaks to $93 million Monday, October 25th, 2021; 1 player won the second prize


Sunday, October 24th, 2021, 01:31 AM


The grand prize in America's favorite Powerball lottery game continues to go up exciting players all across the nation. Since ...... Read More »
Powerball jackpot goes to $86 million; 1 ticket won the second prize


Thursday, October 21st, 2021, 01:33 AM


The grand prize for Saturday Powerball lottery climbed to $86 million (lump-sum cash payout $60.9 million) after no player hit all ...... Read More »
No jackpot ticket sold. Wednesday's Powerball jackpot goes to $73 million


Tuesday, October 19th, 2021, 12:57 AM


No one won Monday night's Powerball game drawing, worth $65 million, bringing the projected grand prize on Wednesday to $73 ...... Read More »
No jackpot winning ticket sold last night. Powerball jackpot breaks to $65 million Monday


Sunday, October 17th, 2021, 01:02 AM


The grand prize in the Powerball multi-state lottery game has been rolled up to $65 million. The lump-sum cash payout stands at an ...... Read More »
Saturday's Powerball jackpot rolls up to $60 million; One second prize ticket sold


Thursday, October 14th, 2021, 01:15 AM


Without a grand prize winner in the latest drawing, the Powerball multistate lottery game has rolled over its jackpot to $60 ...... Read More »
No jackpot ticket sold last night. Wednesday's Powerball jackpot increases to $50 million


Tuesday, October 12th, 2021, 01:28 AM


With no winner in the last draw, the Powerball game jackpot is going to be worth a projected $50 million (cash option $34.9 ...... Read More »
Nobody won the jackpot last night. Powerball jackpot moves to $38 million Monday, October 11th, 2021


Sunday, October 10th, 2021, 12:32 AM


There were no Powerball game grand prize winners for Saturday's $31 million dollar drawing, so the grand prize will climb to an ...... Read More »
Saturday's Powerball jackpot climbs to $31 million; One player won the second prize


Thursday, October 7th, 2021, 01:30 AM


Wall Street is not the only place where fortunes are made and lost these days. One fortune is going to be up for grabs on ...... Read More »
A single player in California walked away with $685 million Powerball jackpot in Monday night's drawing


Tuesday, October 5th, 2021, 12:54 AM


One of the tickets sold in California for the Powerball lotto Monday night matched all six numbers drawn. The player matching all ...... Read More »
Massive Powerball jackpot up for grabs Monday night


Sunday, October 3rd, 2021, 12:58 AM


Monday's Powerball jackpot will be worth a projected $670 million (lump-sum cash payout $474.8 million), because no one hit all 5 ...... Read More »
Florida Powerball
SUN MON TUE

WED

THU FRI

SAT


Next Draw: Mon Oct 25, 2021
$93.00 Million
Change: +$7.00 Million