One ticket won $455 million Powerball jackpot in Saturday night's drawing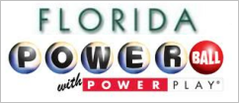 Updated: Sunday, March 18, 2018 01:13 AM
A single lucky ticket in matched all 6 numbers in the Saturday drawing and won the $455 million grand prize. The numbers from Saturday, March 17th, 2018 drawing were 22-57-59-60-66 and Powerball was 07. The winning ticket holder will have the option of annuity payments for the entire prize amount of $455 million, or the cash option in the amount of $269.4 million before taxes. The winning ticket holder is highly suggested to sign the ticket, put it in a secure place and contact lottery officials as soon as possible. Jackpot winner has the opportunity to select the cash value of the jackpot while claimng the prizes. If the winner does not make choice, the payment option will revert to annuity by default.
Besides the grand prize hit on Saturday, March 17th, 2018, many more people took home with big money. There were three second prize winners from Saturday night's Powerball drawing, matching all 5 numbers but not the Powerball number. The 2 second prize winning ticket(s) sold in won 1 million dollar cash. The other one second prize winner(s) from also chose Power Play, which doubled the prize to $2 million cash win!
Additional prizes won Saturday evening included 39 tickets that matched 4 white numbers plus the Powerball and won $10,000. There were 4 tickets matched 4+1 with Power Play option, multiplying the winnings by 4 for a total win of $40,000 each!
There were 177,263 Powewrball winning tickets sold in the state of Florida. 3 tickets sold in Florida matched 4 white ball numbers as well as the Powerball. These lucky ticket holders will receive $10,000 cash each. There was a single lucky Florida winner matched 4 lotto numbers in addition to the Powerball with Power Play and won $40,000. There were 259 lucky Florida players won $100 prize by matching 4 or 3+1 numbers. 69 tickets were sold in the state of Florida which matched either 4 or 3+1 numbers with Power Play. The lucky ticket holders will receive $200 each.
With 9 different prize levels, there were 1,950,048 tickets across U.S. won $0 prizes in the Saturday, March 17th, 2018 drawing.
The upcoming Powerball lotto grand prize is estimated at $40 million for Wednesday night. The cash option will be $24 million.
America's favorite Powerball game can be played in 42 states, D.C. and the US Virgin Islands. Powerball drawings are held 2 times a week every Wednesday and Saturday night at 10:59 PM Eastern Time. Each play costs $2. Players can choose to spend 1 extra dollar to purchase the Power Play, which increases the original winnings but not grand prize. The overall odds of winning is about 1 to 32. The odds of winning Powerball grand prize are 1 to 292,201,338. The minimum Powerball jackpot is $40,000,000. The annuity option is paid in 30 yearly increment payments. Winners can select one time lump sum cash payout instead.
Sat Mar 17, 2018 Powerball Payout of U.S.
Numbers Matched
Prizes
# Winners
5 of 5 + Powerball
$455,000,000
1
5 of 5
$1,000,000
2
4 of 5 + Powerball
$50,000
39
4 of 5
$100
936
3 of 5 + Powerball
$100
2,444
3 of 5
$7
58,580
2 of 5 + Powerball
$7
50,655
1 of 5 + Powerball
$4
411,201
Powerball Only
$4
1,105,741
Sat Mar 17, 2018 Powerball Payout of US(with PowerPlay)
Numbers Matched
Prizes
# Winners
5 of 5 with Power Play
$0
1
4 of 5 + Powerball with Power Play
$2,000,000
4
4 of 5 with Power Play
$100,000
169
3 of 5 + Powerball with Power Play
$200
484
3 of 5 with Power Play
$200
10,558
2 of 5 + Powerball with Power Play
$14
9,307
1 of 5 + Powerball with Power Play
$14
79,084
Powerball Only with Power Play
$8
220,842
Sat Mar 17, 2018 Powerball Payout of Florida(w/o PowerPlay)
Numbers Matched
Prizes
# Winners
5 of 5 + Powerball
$0
0
5 of 5
$1,000,000
0
4 of 5 + Powerball
$50,000
3
4 of 5
$100
70
3 of 5 + Powerball
$100
189
3 of 5
$7
4,724
2 of 5 + Powerball
$7
4,084
1 of 5 + Powerball
$4
34,530
Powerball Only
$4
96,699
Sat Mar 17, 2018 Powerball Payout of Florida(with PowerPlay)
Numbers Matched
Prizes
# Winners
5 of 5
$2,000,000
0
4 of 5 + Powerball
$100,000
1
4 of 5
$200
25
3 of 5 + Powerball
$200
44
3 of 5
$14
1,123
2 of 5 + Powerball
$14
1,073
1 of 5 + Powerball
$8
8,714
Powerball Only
$8
25,984
More Powerball Payouts
One ticket won $455 million Powerball jackpot in Saturday night's drawing


Sunday, March 18th, 2018, 01:13 AM


A single lucky ticket in matched all 6 numbers in the Saturday drawing and won the $455 million grand prize. The numbers from ...... Read More »
The jackpot for Saturday's Powerball drawing soars to $455 million


Thursday, March 15th, 2018, 12:54 AM


The jackpot in the multi-state Powerball drawing built to $455 million for the Saturday drawing. The cash value will be a ...... Read More »
Enormous Powerball jackpot up for grabs Wednesday night


Sunday, March 11th, 2018, 01:49 AM


Saturday night's Powerball game drawing has yielded no jackpot winner for the $385 million grand prize. With no one matched all ...... Read More »
Powerball jackpot goes to $385 million Saturday night; Three players won the second prize


Thursday, March 8th, 2018, 01:34 AM


The jackpot in the multi-state Powerball lottery drawing rised to $385 million for the Saturday drawing. The cash value stands at ...... Read More »
The jackpot for Wednesday's Powerball drawing skyrockets to $348 million


Sunday, March 4th, 2018, 12:48 AM


The Powerball lottery jackpot has been pumped up to $348 million (cash option $207.4 million) for the next drawing in the ...... Read More »
No ticket matched all 6 numbers last night. Powerball jackpot rolls up to $321 million Saturday, March 3rd, 2018


Thursday, March 1st, 2018, 01:53 AM


Nobody won Wednesday night's Powerball game drawing, worth $293 million, bringing the estimated jackpot on Saturday to $321 ...... Read More »
Big Powerball jackpot up for grabs Wednesday night


Sunday, February 25th, 2018, 01:49 AM


The grand prize in the multi-state Powerball drawing went to $293 million for the Wednesday drawing. The cash option will be an ...... Read More »
Saturday's Powerball jackpot leaps to $269 million; One player matched the first 5 numbers


Thursday, February 22nd, 2018, 12:56 AM


Wednesday night's Powerball game drawing has yielded no grand prize winner for the $246 million grand prize. With nobody matched ...... Read More »
The jackpot for Wednesday's Powerball drawing soars to $246 million


Sunday, February 18th, 2018, 01:50 AM


There has been another carry over in the grand prize for the multistate Powerball game - to $246 million. The cash option stands ...... Read More »
Saturday's Powerball jackpot builds to $223 million; 2 players won the second prize


Thursday, February 15th, 2018, 01:21 AM


Without a big winner in the last drawing, the Powerball multistate lottery game has rolled over its grand prize to $223 million ...... Read More »
Florida Powerball
SUN MON TUE

WED

THU FRI

SAT


Next Draw: Wed Mar 21, 2018
$40.00 Million
Change: -$415.00 Million