Florida Fantasy 5 Results, Intelligent Picks, Lotto Wheels
Updated: Wednesday, December 31st, 1969 07:00 PM
Florida Fantasy 5 | FL Fantasy 5 Results | Flalottery Fantasy 5
#
Draw Date
Winning Numbers
Sat May 15, 2021
Fri May 14, 2021
Thu May 13, 2021
Wed May 12, 2021
Tue May 11, 2021
Mon May 10, 2021
Sun May 09, 2021
Sat May 08, 2021
Fri May 07, 2021
Thu May 06, 2021
Place mouse over or click to view

Florida(FL) Fantasy 5 Prizes and Odds
Florida Fantasy 5 News and Payout for Saturday, May 15th, 2021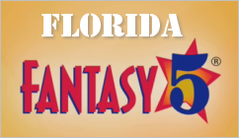 Updated: Sunday, May 16, 2021 01:29 AM
One ticket matched all 5 winning numbers in Saturday, May 15th, 2021's FL Fantasy 5 drawing to win the projected $223,954 jackpot, according to Florida State lottery officials. The winning numbers drawn Saturday night, May 15th, 2021 were 02-20-26-29-36. The winning ticket holder is encouraged to sign the ticket, place it in a safe place and contact Florida State lottery officials as soon as possible.
Together with the grand prize awarded on Saturday, May 15th, 2021, Florida Fantasy 5 generated many more pleased winners walked away with big pile of cash. There were 273 second prize winning tickets sold Saturday night's Florida Fantasy 5 drawing, matching Match 4-of-5 winning numbers and won the second prize. 273 lucky winning ticket(s) which matched numbers would win $132 cash. In the past 12 months, the second prize paid the lowest $39 and highest $555 with an average payout in the amount of $201.
Also, 8675 tickets matched Match 3-of-5 numbers. The 8675 winning ticket(s) which matched Match 3-of-5 numbers won $12 cash each. In the past year, the third prize payout ranged from $8 to $27 with an average payout $12.
Florida Fantasy 5 drawings occur everyday at 11:15 p.m. Eastern Time. Florida Fantasy 5 uses a 5/36 matrix to randomly pick winning numbers. The overall odds of winning any prizes is about 1 to 7.5. The chances of winning Florida Fantasy 5 grand prize are 1 to 376,992. FL Fantasy 5 is a pari mutuel lottery game. The final prize amounts vary with the total amount of sales and the number of winning tickets sold in each prize level. All Florida Fantasy 5 cash prizes are paid in one cash payment.
With 5 different prize tiers, the Saturday night's drawing produced 198,626 winning tickets across the state of Florida. Find below the Florida Fantasy 5 payout highlights for the Saturday night's drawing:
One winner matched Match 5-of-5 and won $223,954. In the past 1 year, winning tickets of this prize tier in Florida Fantasy 5 drawing, won from $19,098 to $237,975, with an average of $115,295 payout.
273 ticket(s) matched Match 4-of-5 and won $132 each. In the past 1 year, tickets of this prize tier in the drawing of Florida Fantasy 5, won a minimum of $39 to max $555. The average prize payout of this prize tier was $201.
8675 winners matched Match 3-of-5 and won $12 each. In the past 12 months, winning tickets hit Match 3-of-5 in the drawing of Florida Fantasy 5, won a minimum of $8 to max $27. The average payout of this prize tier was $12.
Click here for detailed information of Florida Fantasy 5 payout and news.
Florida Fantasy 5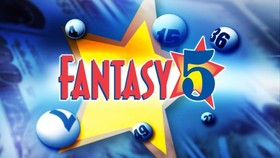 Florida Fantasy 5 has been in the news a lot lately, and with good reason. More and more people are playing this wonderful game, and they're winning money everyday. Sometimes playing Florida Fantasy 5 is so easy, in fact, that you'll be able to leave your lottery retailer as a winner. That's right! You have the chance of getting a winning ticket just by playing the EZmatch option that Florida Fantasy 5 tickets offer their players each and everyday.
With those kinds of prizes, it's no wonder that more and more people are playing Florida Fantasy 5. Learn about this exciting and fun game today, and you'll soon be basking in riches!
If you want to drastically improve your chances of taking home the Florida Fantasy 5 top prize, then there are many things you should start doing today. Whether it's making strategies on which numbers to pick, getting creative and choosing a new set of winners that you've never tried, or even joining in on that Florida Fantasy 5 lottery pool at work, your chances of winning Florida Fantasy 5 are impressive.
Florida Fantasy 5 How to Play?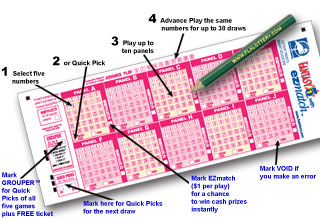 Your chances of winning are great with Florida Fantasy 5. All you need to know to play are a few simple and easy to remember steps:
In this easy multi-number game, all you need to do is choose 5 numbers between 1 and 36.
For players that want an added bonus and an added-level of fun, then consider EZmatch. EZmatch is a simple add-on to Florida Fantasy 5 that will only cost you an additional $1. And when you choose this option, you have the chance of winning as much as $500 instantly!
When you select different panels with EZmatch you will be given a separate ticked from your lottery retailer. This means that you will have two tickets when you leave the retailer, one with your Florida Fantasy Five numbers and the other with your EZmatch numbers. If any of the numbers from one card match the numbers from the other card, you have the chance of winning anywhere from $2 to $500! And what's more, you can claim that money right there at your lottery retailer. That's right, you don't even have to wait for a drawing or come back later. If this lucky chance happens to you, your retailer will give you a continuation ticket for the next Florida Fantasy 5 drawing.
Florida Fantasy 5 is easy and exciting to play, and it won't break the bank either. At only $1 per ticket, you know you can indulge in this game already played by millions in Florida.
The payout rates for Florida Fantasy 5 are good, especially with the great odds you have of winning.
5 of 5: $200,000
4 of 5: $100
3 of 5: $10
2 of 5: Free ticket
More about Florida Fantasy 5
Beginning in 1988, millions of people have won and played Florida Lottery games. One of these exciting games is Florida Fantasy 5, and you can play it each week. What's more, if you're such a lottery aficionado that you like watching the balls drop first hand, you can see live drawings if you head to the Florida Lottery studio in Tallahassee.
Florida Fantasy 5 holds drawings each day with a live news broadcast at 11:15 PM (EST). There are 36 balls in the game, and a single machine is used to pull the balls. Prior to 2001, there were only 26 balls, and before 1993 players could choose up to 35 numbers when playing. Still, most agree that 36 choices are more than enough to take home the millions of dollars that Florida Fantasy 5 players have a chance at.
When a Florida Fantasy 5 drawing takes place, five balls are pulled out of the machine. If anyone manages to match all five of those numbers, they have a chance of taking home $200,000!
Before changes took place in the game, if no one had picked the right numbers, the pool of money would roll down to the next tier of players, those who had gotten 4 of 5 correct numbers. This system was modified in September 2008, so that now the Florida Fantasy 5 does have a cap on its jackpot.
Still, if there is no big winner, you might be the lucky one that takes home a roll down prize, which could mean your winnings are doubled on the next tier of winning tickets. Another thing to remember with this change, however, is that a match of 4 numbers has now been capped at a maximum prize of $555. If that doesn't sound like much to you, or like the roll down system that Florida Fantasy 5 uses is any good, think again. In August 2012 an astounding 98 Florida Fantasy 5 winners received $1,992.32 on their roll down tickets. With that kind of luck, you know you should be getting up out of your chair to run to your nearest Florida Fantasy 5 retailer now!
There are literally as many ways to win Florida Fantasy 5 as there are prizes to collect. Books have been written on the various strategies out there that are often employed with winning results. When you're playing a game with only 36 numbers, you have a pretty even mix of even and odd. Seeing a winning ticket with either all even or all odd numbers is something that rarely happens, so that is one thing to consider when you're thinking which Florida Fantasy 5 numbers you should choose.
While there are many strategies that work, there are also a few that don't. For instance, if you're always playing the same Florida Fantasy 5 numbers week-after-week, well it might be time to hang them up. Just because you think it's your turn to win, that doesn't mean it's going to happen. Try mixing it up sometime, perhaps by joining a lottery pool, or group of people who join together each week to play Florida Fantasy 5. Millions have won that way, and there's no reason why you can't be the next.


Florida Fantasy 5

SUN

MON

TUE

WED

THU

FRI

SAT


Next Draw: Sun May 16, 2021