Florida Cash 3 Evening Payout for Sunday, July 31st, 2016 Evening Drawing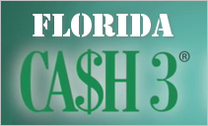 Updated: Sunday, July 31, 2016 08:20 PM
The winning numbers of Cash 3 Evening for Sunday, July 31st, 2016 were 4, 0, 5. The next Cash 3 Evening game drawing will be held 1:30 pm, Monday, August 1st, 2016, Eastern Time.
There were 1537 winning tickets share a total of $153,135 prizes in Sunday, July 31st, 2016's drawing for Cash 3 Evening lottery. In the past year, the winning tickets sold in one Florida Cash 3 Evening drawing ranged from 623 to 8,081, with an average of 2,121 winning tickets sold.These winning tickets won a minimum of $74,550 to max $2,994,465. The average total prize payout in one drawing was $285,866.
Cash 3 Evening drawings are held 7 days a week around 1:30 pm ET. To play Florida Cash 3 Evening game, go to any Florida lottery retailer, use a Florida Cash 3 Evening playcard. Choose three digit numbers in each game panel you want to play. In each game played, choose a play type from one of these below:
Straight
Box
Straight/Box
1-Off
Front Pair
Back Pair
Combo
To understand the bet types, you can ask the retailer for a Florida Cash 3 Evening brochure where detailed instructions of bet types can be found. Use only blue or black pen or pencil for marking with heavy vertical marks. If you can't think of the numbers to play, you can just mark the Quick Pick option to have numbers picked for you randomly. After you are done, pass the marked playcard to the clerk for processing.
More Pick 3 Evening Payouts
Florida Pick 3

SUN

MON

TUE

WED

THU

FRI

SAT


Pick 3 Midday
Next Draw: Thu Nov 30, 2023
Pick 3 Evening
Next Draw: Wed Nov 29, 2023