Florida Pick 4 Evening Results, Intelligent Picks, Lotto Wheels
Updated: Tuesday, November 28th, 2023 02:01 PM
Florida Pick 4 Evening | FL Pick 4 Evening Results | Flalottery Pick 4 Evening
#
Draw Date
Winning Numbers
Tue Nov 28, 2023
Mon Nov 27, 2023
Sun Nov 26, 2023
Sat Nov 25, 2023
Fri Nov 24, 2023
Thu Nov 23, 2023
Wed Nov 22, 2023
Tue Nov 21, 2023
Mon Nov 20, 2023
Sun Nov 19, 2023
Place mouse over or click to view

Florida(FL) Pick 4 Evening Prizes and Odds
Florida Pick 4 Evening News and Payout for Sunday, July 31st, 2016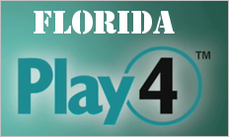 Updated: Sunday, July 31, 2016 08:20 PM
The Florida Play 4 Evening game winning numbers for the Sunday, July 31st, 2016 drawing were 6-4-1-5. The next Florida Play 4 Evening lottery drawing is going to be 7:57 pm, Monday, August 1st, 2016, Eastern Time.
535 winning tickets were sold in the drawing of Sunday, July 31st, 2016 for Florida Play 4 Evening . These winning tickets won a total of $151,530 in prizes. In the past 12 months, the winning tickets sold in one drawing of Florida Play 4 Evening ranged from 173 to 2,804, with an average of 636 winning tickets sold.These winning tickets won at least $30,625 to max $5,011,420. The average payout in a single drawing was $196,584.
Florida Play 4 Evening game drawings occur 7 days a week around 7:57 pm ET. To play Play 4 Evening , go to a lottery retailer, use a Florida Play 4 Evening play slip. Choose four digit numbers in each game panel you want to play. In each game panle, pick a wager type from one below:
Straight
Box
Straight/Box
Front Pair
Mid Pair
Back Pair
Combo
To understand the play types, please ask the retailer for a Florida Play 4 Evening lottery brochure where detailed explanations of play types can be found. Use only black or blue pen or pencil for marking with heavy vertical marks. If you are not able to come up with the numbers to play, just mark the Quick Pick to have numbers picked for you randomly. After you are done, present your marked play slip to the clerk for processing.
Click here for detailed information of Florida Pick 4 Evening payout and news.
Florida Play 4
Florida Play 4 was first founded in 1991. This type of lottery game is a daily on-line number game and it was introduced on July 4th. The top prize for this game is $5,000. With the Florida Play 4 game, you have two chances a day to win $5,000 as a top prize. You can choose the option to Play it Straight or you can play Combo for a chance at even bigger prizes. There are a few ways to increase your chances of winnings by trying Box, Pairs, or Straight/Box. You've got the option to play this game any way you want it any day you want and two times a day also!
Florida Play 4 How to Play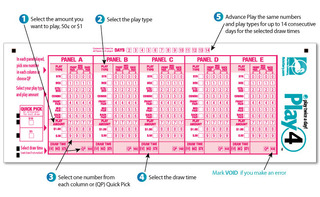 Playing this game is easy and begins with getting a playslip at any authorized Florida lottery seller or retailer. There are 5 panels on each playslip ranging from A-E. In each panel played:
Select the exact amount that you are interested in playing: either 50 cents to $1.
You'll choose a play type: Straight/Box, Straight, Combo, Front Pair, Straight, Back Pair, or Mid Pair.
Select a number from 0-9 from each of the columns to reach 4 digits. You can also choose to do Quick Pick and let the terminal pick numbers for you automatically. With a Front Pair, you want to choose numbers from the first 2 columns. For Mid Pair plays, choose your numbers from the middle 2 columns. Back Pair plays you'll be choosing numbers from the last 2 columns.
Choose your draw time. You can choose the midday drawing or you can choose the evening drawing. You can also choose both drawings. If you don't mark a draw time on your ticket, the machine will automatically print you a ticket for the draw that is available next. If you choose both draw times, you will receive two tickets. One of them is going to be for the midday drawing and the other will be for the evening drawing.
You can Advance Play the same numbers as well as the play types for up to 2 weeks for the same draw times you have chosen. You just mark the number in the section of the playslip where it says Days.
Always make sure you check your tickets before leaving the store to ensure that the person did the numbers the right way. You are held responsible for checking your tickets and if you don't, your tickets cannot be changed at a later date once you leave the store. You can watch the drawings of the Florida Play 4 each day two times a day immediately following the Play 4 drawings. The Play 4 drawings are held at 1:30 p.m. and 7:57 p.m. You can also watch online and visit the official Florida Lottery website if you missed the live drawing on the TV. If you are a winner, you have 180 days to claim your prize.
Florida Play 4 Lottery
How to Win Florida Play 4 Any player who can match all 4 numbers that are drawn in the drawing for that particular date of their ticket has the chance to win up to $5,000. This can depend on the play type that was purchased as well as the amount that was played. Mid Pair, Front Pair, and also Back pair players that have matched two numbers in the exact order can win up to $50. The numbers that you select can determine how many ways you can win. Here is a chart to show examples:
4 Way: Select a 4 digit number with 3 numbers that are the same and you have 4 chances to win.
6 Way: You choose a 4 digit number and you have two pairs of numbers. For instance, 1122. This gives you 6 ways to win.
12 Way: You have a 4 digit number that has 2 numbers that are the same and then the other two numbers are different. For instance, 1123. This gives you 12 different ways to win.
24 Way: You choose a 4 digit number and each number is different. For instance, 1234. In this case, you have 24 ways to win.
Florida Play 4 Prize Options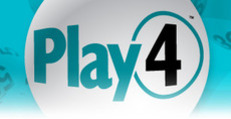 There are 2 different ways to receive your winnings. You can either have them paid out in 20 or 30 annual payments or you can choose to have it all paid in one lump sum. Either method of getting your winnings allows you to have a check or a wire transfer to your bank account, or if you want a wire transfer you are going to have to have a brokerage account or a bank account. If you use a bank account, be prepared to give them a voided check so they know where to transfer your Florida Play 4 winnings to.
Once you get your winnings, there are going to be taxes that are withheld for both cash and annual payments. If the Florida winner is a US citizen with a social security card, the IRS will require the lottery to hold back 25% of your winnings that are greater than $5,000. If the winner is a US citizen but has no social security number then the IRS requires a withholding amount of 28% on anything higher than $600. If the winner is an alien and not a citizen, the IRS requires all winnings to be reported as long as it's over $600.
You want to make sure that you take adequate care of your tickets. You want to make sure it stays in a safe place at all times until it comes time to redeem it if you happen to win. You should never leave your ticket in the sunlight or near a dryer or anything else hot. Don't laminate your ticket to keep it safe and from bending either as it could become null and void. Keep your ticket away from counters while you are cooking since substances such as butter, oil, and milk can ruin your ticket. Also, keep it away from water.
Florida Pick 4

SUN

MON

TUE

WED

THU

FRI

SAT


Pick 4 Midday
Next Draw: Thu Nov 30, 2023
Pick 4 Evening
Next Draw: Wed Nov 29, 2023