Powerball jackpot moves to $186 million Wednesday night; 7 second prize tickets sold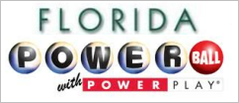 Updated: Sunday, July 25, 2021 12:45 AM
The Powerball jackpot is on the move again. The grand prize for the Wednesday, July 28th, 2021 drawing leaps to $186 million with the lump-sum cash payout of a projected $134.6 million. The numbers from Saturday, July 24th, 2021 drawing were 01-04-11-59-67 and Powerball was 10. There was no jackpot winning ticket sold in the past 12 draws since Wednesday, June 16th, 2021. The last jackpot was won by a single ticket sold in , matched all six numbers for a $31.00 million top prize.
Although the jackpot was not hit Saturday evening, Powerball had some big winners. There were 7 tickets that matched the first five numbers and won the second prize. The 2 ticket(s) in Maryland(1) and Virginia(1) matched the first 5 lotto numbers with the Power Play for an incredible $2 million cash win! This is part of the Powerball game feature that guarantees a certain multiplier on all match 5 white ball winners that also have the Power Play option doubling the prize to $2 million cash. 5 other lucky ticket(s) sold in Florida(1), Illinois(1), New Hampshire(1), New Jersey(1) and Tennessee(1), each won $1,000,000 cash by matching all 5 white ball numbers!
Also, 14 tickets matched four of the five lotto numbers, plus the Powerball number. Those tickets are each worth $10,000. There were 5 tickets matched 4+1 with Power Play option, multiplying the prizes by 4 for a total win of $40,000 each!
There were 59,942 Powewrball winning tickets sold in the state of Florida. The lucky Florida ticket won the second prize was sold from . 100 tickets were sold in the state of Florida which matched either 4 or 3+1 numbers. The lucky ticket holders will receive $100 each. 36 tickets were sold in the state of Florida which matched either 4 or 3+1 numbers with Power Play. The lucky ticket holders will collect $200 each.
With 9 ways to win, the Saturday night's drawing created 651,488 winning tickets across the nation with a total amount of $0 prizes.
Powerball is an American popular lottery game can be played in 44 member states as a shared jackpot game. Powerball drawings are held 2 times a week every Wednesday and Saturday night at 10:59 PM Eastern Time. Powerball game uses a 5/69 (white balls) + 1/26 (Powerballs) system to randomly pick winning numbers. Each play costs $2. Players can choose to pay $1 extra to purchase the Power Play option, which multiplies the original prizes except grand prize. The odds of winning is about 1 to 32. The chances of winning Powerball jackpot are 1 to 292,201,338. The minimum Powerball jackpot is $40 million. The annuity option is paid in 30 graduated payments. Winners may choose one time lump-sum cash payout option instead.
Sat Jul 24, 2021 Powerball Payout of U.S.
Numbers Matched
Prizes
# Winners
5 of 5 + Powerball
$174,000,000
0
5 of 5
$1,000,000
5
Florida-1
Illinois-1
New Hampshire-1
New Jersey-1
Tennessee-1

4 of 5 + Powerball
$50,000
14
4 of 5
$100
328
3 of 5 + Powerball
$100
898
3 of 5
$7
22,873
2 of 5 + Powerball
$7
18,863
1 of 5 + Powerball
$4
137,556
Powerball Only
$4
320,506
Sat Jul 24, 2021 Powerball Payout of US(with PowerPlay)
Numbers Matched
Prizes
# Winners
5 of 5 with Power Play
$2,000,000
2
Maryland-1
Virginia-1

4 of 5 + Powerball with Power Play
$100,000
5
4 of 5 with Power Play
$200
110
3 of 5 + Powerball with Power Play
$200
280
3 of 5 with Power Play
$14
7,254
2 of 5 + Powerball with Power Play
$14
5,779
1 of 5 + Powerball with Power Play
$8
41,490
Powerball Only with Power Play
$8
95,525
Sat Jul 24, 2021 Powerball Payout of Florida(w/o PowerPlay)
Numbers Matched
Prizes
# Winners
5 of 5 + Powerball
$174,000,000
0
5 of 5
$1,000,000
1
4 of 5 + Powerball
$50,000
0
4 of 5
$100
23
3 of 5 + Powerball
$100
77
3 of 5
$7
1,962
2 of 5 + Powerball
$7
1,665
1 of 5 + Powerball
$4
12,155
Powerball Only
$4
28,567
Sat Jul 24, 2021 Powerball Payout of Florida(with PowerPlay)
Numbers Matched
Prizes
# Winners
5 of 5 with Power Play
$0
0
4 of 5 + Powerball with Power Play
$2,000,000
0
4 of 5 with Power Play
$100,000
5
3 of 5 + Powerball with Power Play
$200
31
3 of 5 with Power Play
$200
737
2 of 5 + Powerball with Power Play
$14
572
1 of 5 + Powerball with Power Play
$14
4,247
Powerball Only with Power Play
$8
9,900
More Powerball Payouts
Powerball jackpot moves to $186 million Wednesday night; 7 second prize tickets sold


Sunday, July 25th, 2021, 12:45 AM


The Powerball jackpot is on the move again. The grand prize for the Wednesday, July 28th, 2021 drawing leaps to $186 million with ...... Read More »
Powerball jackpot jumps to $174 million Saturday night; Two second prize tickets sold


Thursday, July 22nd, 2021, 12:38 AM


Saturday's Powerball game jackpot rised up to $174 million, since no player hit all 5 lotto numbers plus the Powerball number ...... Read More »
Powerball jackpot rolls up to $161 million Wednesday night; 1 ticket won the second prize


Sunday, July 18th, 2021, 01:36 AM


There has been another carry over in the grand prize for the multistate Powerball lottery - to $161 million. The cash option ...... Read More »
Saturday's Powerball jackpot moves to $150 million; 1 second prize ticket sold


Thursday, July 15th, 2021, 01:39 AM


The MUSL lottery official announced that the Wednesday, July 14th, 2021, POWERBALL's drawing resulted in a carry over, producing a ...... Read More »
Powerball jackpot rises to $137 million Wednesday; Three second prize tickets sold


Sunday, July 11th, 2021, 12:43 AM


The grand prize in the Powerball multistate lottery game keeps moving up and is going to be up to an estimated $137 million for ...... Read More »
No jackpot ticket sold last night. Saturday's Powerball jackpot moves to $127 million


Thursday, July 8th, 2021, 01:59 AM


There were no tickets sold hit all 6 numbers in the last multi-state Powerball game draw, and the projected grand prize for ...... Read More »
No one matched all 6 numbers last night. Powerball jackpot rises to $113 million


Sunday, July 4th, 2021, 12:45 AM


The grand prize in the multi-state Powerball drawing grew to $113 million for the Wednesday drawing. The lump-sum cash payout will ...... Read More »
Nobody won the jackpot last night. Powerball jackpot breaks to $101 million Saturday night


Thursday, July 1st, 2021, 01:39 AM


The Powerball multi-state lottery jackpot jumped to $101 million (lump-sum cash payout $71.3 million) Saturday night when there ...... Read More »
Wednesday's Powerball jackpot moves to $88 million; 1 player won the second prize


Sunday, June 27th, 2021, 12:58 AM


The Powerball grand prize is on the move again. The jackpot for the Wednesday, June 30th, 2021 drawing leaps to $88 million with ...... Read More »
No jackpot winning ticket sold. Powerball jackpot rolls up to $75 million Saturday, June 26th, 2021


Thursday, June 24th, 2021, 01:50 AM


The grand prize in the Powerball multi-state lottery game has been increased to $75 million. The cash option will be an estimated ...... Read More »
Florida Powerball
SUN MON TUE

WED

THU FRI

SAT


Next Draw: Wed Jul 28, 2021
$186.00 Million
Change: +$12.00 Million